Harry Potter In Glencoe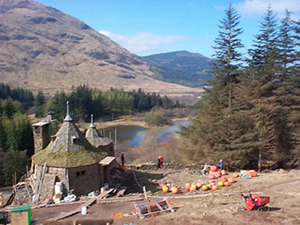 Filming for the third Harry Potter film, Harry Potter and the Prisoner of Azkaban, took place on location in Glencoe in May and June 2003. Regular visitors to Clachaig Inn and Glencoe will spot a familiar looking backdrop in the film, and in subsequent Harry Potter films.
During the spring of 2003, three sets were built near to the bottom of Clachaig Gully, and quite literally, just across the road from Clachaig Inn.
The sets were located so as to take in the fantastic scenery, overlooking the Torren Lochan, and the Signal Rock forest to the rugged hills of the glen. Filming continued for a period of several weeks and most of the stars were seen on set at some time or other during the course of the filming.
Visitors to Clachaig during the early summer were quite taken aback to find Hagrid's Hut, complete with pumpkin patch and smoking chimney, the sundial and the turreted gatehouse, and the Bridge to Nowhere sat neatly on the hillside above Clachaig.
The sets have now been removed and the hillsides returned to their natural state, leaving behind little evidence of the excitement that descended upon this quiet corner of the glen for a few weeks. Of course, location filming is not new to Glencoe.
Over many years a number of well known and very successful films have been shot in the glen. Some of these have featured brief scenes, whilst others have involved elaborate sets and a considerable amount of filming.
Films that you may well have seen include Highlander, starring Sean Connery & Christopher Lambert, Monty Python and the Search for the Holy Grail (beware when crossing the bridge to the Lost Valley!) and Rob Roy, starring Liam Neeson.
Read more about film locations in Glencoe on Scotland The Movie. You can also find more details about films on the IMDB web site. In fact, hold on… that looks like Stob Coire Lochan with the snow on the summit, just above Harry and Hermione.
Although the Glencoe set has not been rebuilt, the site opposite Clachaig Inn has been used in subsequent Harry Potter films. Most recently, filming took place in October 2007 for Harry Potter and The Half Blood Prince.